Welcome to pixsellpix 2013 with the Lytro camera…compose and shoot…focus later.
For New years day, pixsellpix is starting 2013 with the Lytro camera…a new concept in photography.
The Lytro's sensor isn't like other camera sensors. It's a light-field sensor that captures 11 million rays of light — not megapixels, megarays. So not only does the camera capture all the light, it captures all of its direction. On top of that it gathers the color and intensity from every angle. Because a Lytro camera can grab all of this data, you don't need to worry about focusing before a shot.
A Lytro camera resembles a rectangular box and has a , heavy, chunky feel to it. The grip and aluminum pieces have a quality feel. It all looks a little toy-like at first, but it's surprisingly strong and sleek.
There's a very discreet zoom toggle on the top of the camera. It's actually quite difficult to see it unless you're pointedly looking for it, but it's there. The tactile zoom mechanism controls the 8x optical zoom, focusing is via the touch screen, but looks a little awkard to manipulate…especially if you have sausage fingers.
Other than the zoom, the only other indentions on the Lytro camera are the power and shutter buttons. And the only indications of there being a designated top and bottom to the chassis are these two things, the shutter standing out slightly more than the power control. There's also a micro-USB port, concealed by the rubber of the grip.
The Lytro camera…point and shoot
There's no learning curve here. You pick it up, you shoot. The only momentary problem you may have is determining which side of the camera is "up," but this thing is a simple as it gets, but it's not exactly cheap.
In the box
With the Lytro camera, you get a wrist strap and a USB cable…thats it and they only ship to the United states…however, there are approved distributors that can supply to the following countries Canada, Australia, Hong Kong, and Singapore.
Ease of use and performance
So at this point, you should have a pretty good idea what Lytro camera is. The first consumer-use light-field camera or plenoptic camera , it's a rectangular tube the likes of which you've never seen in camera form before, and it's utterly simple. The real question is what is it like to use this thing?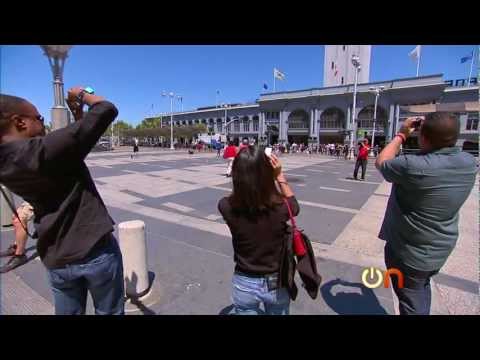 Simply put, it's simultaneously alienating and easy. Taking a picture is as simple as pointing and clicking — as long as you take time out for composition. Lytro camera won't work if you don't think about things like foreground and background and lining up subjects. After a while using the camera, you start seeing things differently; you start to see things in depth, so that they will make nice Lytro shots.
Selective focus
Viewing and using the touchscreen indoors is easy and relatively pleasant — outdoors however, presented a different story. It was nearly impossible to be able to tell if photos were focusing or if an image came out as we had intended. Some substance was definitely sacrificed for style. The small screen, was difficult to manipulate the zoom toggle, and nearly invisible power button are symptoms of keep this Lytro camera as wieldy and sleek as possible. The exterior is undeniable cool, but it's not overly convenient. We would rather have a bulkier Lytro with a bigger display and a better zoom function…however it's fun to use and something completely different.
Software for the Lytro camera
Uploading photos takes a significant amount of time — even longer if you choose to delete them from the camera as well. Of course that makes sense, since each photo is 16 MB.
Again, Lytro camera is making its mark on the Web. Basically any site that supports HTML can use an image's embed code and make it interactive. And that right there is a very compelling argument in favor of the Lytro camera.
Is the Lytro a threat to the DSLR?
Lytro camera isn't going to kill current digital photography–it's just going to be a big, important part of changing it. People won't forsake their digital cameras and replace everything with a Lytro camera, but we're certain they will be adding it to their lineup. On the surface it might sound gimmicky, but at it's core Lytro is a new step in the digital imaging evolution, and it's going to shape the direction camera makers take their products for the future…which is a positive thing.
Lets hope there are more positive things for 2013…
HAPPY NEW YEAR from the lively team @pixsellpix
 We hope OUR photography blog will give YOUR creativity some inspiration next time you are out and about.
If you like our humour and blog of course, buy your Mrs a bunch of flowers…or give us a like…make a donation to help maintain our popular viral blog.
Please Donate €10… $10… or 10 cents… a Pavarotti (Tenner) WILL make a difference.
Pixsellpix.com always encourage feedback from our followers so we can improve on our popular blog. Please take some time to leave your comments, suggestions and ideas you would like to see in future photography blogs.
You can find us here: https://twitter.com/pixsellpix
There: http://www.redbubble.com/people/pixsellpix
Everywhere: https://www.facebook.com/Pixsellpix?ref=hl
Ohhh and this: http://pinterest.com/pixsellpix/
From now at Fine Art America: http://fineartamerica.com/profiles/graham-hawcroft.html?tab=artworkgalleries&artworkgalleryid=218673
Last but not least…click on the ADD tab at the top of your page and add us to your firefox browser.