One of the latest trends in photography is Lomography.
What on earth is Lomography, asks a voice at the back of beyond??
Lomography began with a fateful encounter in the early 1990s…
…when a group of students in Vienna, Austria, stumbled upon the Lomo Kompakt Automat – a small, enigmatic Russian camera. Mindlessly taking the shot from the hip, and sometimes looking through the viewfinder, they were astounded with the mindblowing photos that it produced – the colours were vibrant, with deep saturation and vignettes that framed the shot – it was nothing like they had seen before! Upon returning home, friends wanted their own Lomo LC-A, igniting a new style of artistic experimental photography that we now know as Lomography!
Following the mania that ensued upon the introduction of Lomography, they flew to St. Petersburg to work out a contract for the worldwide distribution of this fantastic little camera. Soon, the 10 Golden Rules was set up as a guide to this analogue movement, followed by exhibitions, world congresses, parties, installations, collaborations, and events. New products, films, and accessories were developed, and Lomography.com served as the communication hub for Lomographers worldwide.
Pinhole to Panorama…Lomography cameras have the lot.
pixsellpix will go through the golden rules of Lomography and the theories, thoughts and attitudes towards expressing oneself with this medium a bit later on…firstly…the endless products available for Lomography and film formats.
Lomography…the sprocket rocket €69.00
Launch yourself into a new Lomographic experience with the astounding Sprocket Rocket. This 35mm compact camera boasts a super-wide angle lens for panoramas and is the first analogue camera to be fitted with a reverse gear, allowing you to rewind and remix your photos! Get photos with an unmistakably analogue look by exposing the sprocket holes, those little perforations which run along the edge of 35mm film rolls and what a fantastic name for a camera…. Hey G…whats with the camera mate? Ohhhh it's a sprocket rocket…bloody marvelous.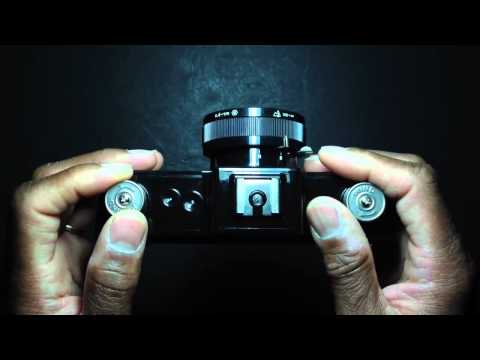 Belairgon Glass Palace Bundle €572.55
Dive into a whole new level of detail, sharpness and incredibly narrow depth of field with the Belair Jetsetter X 6-12 and the brand new 90mm and 114mm Russian glass lenses by Lomography and Zenit.
Fisheye One Hello Kitty Edition €45.00
Sanrio Japan's Hello Kitty gets friendly with the Fisheye No.1 35mm camera. A collectible special edition camera with the signature Fisheye effect!
La Sardina Camera & Flash Grand Cru €99.00
Based on a sardine tin!!!! this lomography camera has to be the craziest with the widest lens. Take a celebratory plunge into wide-angle photography with the La Sardina & Flash Grand Cru! With this special Sparkling Edition camera on hand!
My personal favourites are the rangefinders like the refurbished Fed 1 Zorki and kiev's €200 approx.
Prepare yourself for a real veteran of Russian deadstock history. Manufactured between 1934 and 1955 the Fed 1 was an attempt by the USSR to create a Rangefinder camera to rival the Leica. Have a closer more in-depth look at these classic lomography cameras in this you tube video.
Here is a lovely shop where you can choose from the WHOLE range…something for everyone's taste and budget.
Like any passion, you can never plan or predict Lomography. It's like your inner voice and your deepest desire working at the same time. Lomography is waiting around the corner to say "Hey good looking, wanna go for a ride?" And…if there are any "rules" to lomography…here are a few.
Lomography – take the camera wherever you go…even to bed.
You might be at a garage, in the woods, on an Airbus, in the Hammam, at work, on the Fujiyama, or in bed with breakfast when it hits you. Your trigger finger start trembling, your eyes become hungry, your soul is burning for images. You grab your LOMO LC-A, click, ahhhh, click, now it's better, click. Then it happens; the unstoppable Lomographic desire to document your surroundings overwhelms you and won't let go. And nor will you: you're feeling Lomography and life starts pulsating. It's the best addiction in the world.
Did you know that the best photos come out of spontaneous, impulsive situations and that many are therefore never taken, simply due to the lack of a camera? Your LOMO LC-A compact and fast and becomes an integral part of your body and soul. It touches photographic spheres that other cameras can't: unexpected, spontaneous sudden moments;; the most vibrant parts of life! Open your eyes and always have your LOMO LC-A with you.
Use it any time – day and night, black and white.
Every second is special with your lomography.
Your feelings, your memory and your Lomographs; they all mix up to a new, complete, more authentic view and perception of yourself and your life. You don't only perceive in sunshine, daytime, on holidays and on Aunt Fannies birthday, do you? So keep shooting in any environment, every day and every night, be aware, and create yourself, your being, your design. Shoot restlessly and give your memory a kick in the ass with your lovely, crap, beautiful, artistic and silly Lomographs.
Eat, sleep and drink, lomography.
There's no chance of relationship phobia: the LOMO LC-A is what you've always wanted in life; your new best friend, drinking buddy, spiritual leader and lover all at the same time. You work with the camera, you drink with the camera, you sleep with the camera. Lomography becomes a natural and communicative habit of your life, just like talking, walking, eating, thinking, laughing and loving.
Gunslinger mode…shoot from the hip.
Shoot from the hip, shoot from a puddle in the park, Lomography from up to down and down to up, from the front to back and from you to, shoes, socks, toes, hips, buttons, belts, butts. Your LOMO LC-A is as handy as a glove and equips you with deadly fast zone-focusing abilities that let you capture a situation in a split second. Try the shot from the hip to experience absolutely free and boundless dimensions of sight.
Get close…no closer.
Just as with people, you have to be sweet, nice, comprehensive and interested to get to know the very inside of your subject. As soon as you feel the right moment- take a picture! Try it and you'll see that the deep affection for your Lomography subject is strongly reflected in your image. Get in contact with your subject and build up a relationship.
Don't think, shoot…be impulsive when the moment happens.
A wonderful and easy way to get rid of conventional thoughts… Don't think! Throw your intellectual socialisation over board, let the unfiltered flow of information circulate freely, untreated and unrated in your mind. Shoot, feel, perceive and shoot, have fun, shoot whatever catches your eye, whatever attracts you, astounds you, excites you, seduces you.
Lomography is a surprising diversion to your egghead-life and will enlighten you with true, simple and wonderful revelations.
Fast reactions
Movements, actions and Lomographic moments are not reading the paper and waiting for you to take pictures of them…the pool attendant with the big belly, the dance champion with the tight dress, the dog with the pink tie, the bus driver with the fat glasses, your dad in the shower. Believe us; they are not crazy about you taking pictures of them – but you certainly are!
So, cowgirls and cowboys: calmly hold your finger towards your LOMO LC-A's zone focusing meter, trust in yourself and in the automatic exposure, grab your guts and be quick to catch the wink of time and accidental destiny. Hold your breath, be brave, take a chance, move, shoot, run, have fun, act fast – that's Lomography!
Look at your Lomography in a different way to conventional.
Don't try to analyse them, look at them in a different way and let them tell you their story, which is also automatically your story. Your Lomography images are a constant record of your existence that illustrates the adventures of your life in all its moods, shapes, colours, faces and blurs. You don't need to know afterwards what's on your film – just read between the lines, with Lomography, learn to look in a different way and read their forms, feelings, expressions, their swings, their grooves: your life!
So those are the rules of Lomography…but there really aren't any rules as such…just follow your instincts and be true to yourself.
Discover your own Lomography, forget about your education, socialisation, knowledge and everything you've learned and not learned about photography. Set free your innermost desires, never stop moving, never stop Lomographing; believe in yourself, focus on the important and not so important things, enjoy life in all its variations, forget about the camera in your hand and enjoy being creative…pixsellpix
O.k. Jo-Jo time to chillax and crack the cookie jar, open a beer and walk on the wild side…while the boss is in the loo.
We hope OUR photography blog will give YOUR creativity some inspiration next time you are out and about.
If you like our humour and blog of course, buy your Mrs a bunch of flowers…or give us a like…make a donation to help maintain our popular viral blog.
Please Donate €10… $10… or 10 cents… a Pavarotti (Tenner) WILL make a difference.
Pixsellpix.com always encourage feedback from our followers so we can improve on our popular blog. Please take some time to leave your comments, suggestions and ideas you would like to see in future photography blogs.
You can find us here: https://twitter.com/pixsellpix
There: http://www.redbubble.com/people/pixsellpix
Everywhere: https://www.facebook.com/Pixsellpix?ref=hl
Ohhh and this: http://pinterest.com/pixsellpix/
From now at Fine Art America: http://fineartamerica.com/profiles/graham-hawcroft.html?tab=artworkgalleries&artworkgalleryid=218673
Last but not least…click on the ADD tab at the top of your page and add us to your firefox browser.