Lets say you had 4000K to spend on a digital camera would you choose the Leica M8 10.3 MP or the Nikon D800 36.3 MP.
Lightweight Leica M8 with unquestionable optics….and manual focus, which IS a lot slower than auto-focus, unless you master scale focus…or the Nikon D800 with all the trimmings + video and weight.
Soooo, before we start looking at the serious side of this choice…lets have a few minutes on a lighter note on…. how you could have BOTH…just skip this paragraph if you want to cut to the chase. Personally…i could not cope with having to make that decision between the Nikon D800 and the Leica M8 rangefinder…so i would have to have both. Not that i am greedy or selfish or anything like that…no…i would do the honourable thing and make cut-backs and make huge sacrifices too. Here are some examples i thought of where i could make these sacrifices….Firstly….does your wife drive around in a flash car? Well sell it on Ebay…and when your wife is going to work ( late as usual) on the Monday morning and she screams "Where's my effin car gone?"…just calmly explain to her that you were reading a blog on weight loss last week and it said IF you walk to work EVERY day you could lose up to 2 kilos a week AND look 10 years younger. If on the off chance your wife starts showing signs of stress at her lack of transport and her fireworks explode…try and be helpful…show her where the bus stop is and which end of the bus she gets on at…all these things show how much you care you see. Then when she comes home…eventually…tell her how she is looking great/better, while you look online for the best deal.
Lets start with Leica M8
Any discussion about the Leica M8, the first digital M Leica, must of necessity start with an understanding of the place that Leica has in the history of photography. While not the first hand-held small format camera, it was the one that succeeded; since the 1930′s capturing the hearts of generations of photographers, and producing some of the most significant images of the 20th Century.
For more than half a century the M series of cameras, of which the new digital Leica M8 is just the most recent of a steady progression of models, has been the tool of choice for many photojournalists, as well as amateurs who value simplicity of operation over the often baroque complexity of today's polycarbonate ubercameras.
The M8′s uncorrupted DNA shows true. For anyone that has ever worked with an M series Leica, just a few minutes in hand with a Leica M8 will show that Leica gets it; that the company has understood what makes a Leica a Leica.
The Leica M8 is straight from the classic M Leica mold. If you are familiar with a previous film-based M or hold one up side-by-side with the Leica M8 you'll immediately notice that all of the dimensions and weight are the same, except for the depth. The M8 is slightly fatter front to back. You'll also notice that the top and front of the camera are cleaner and simpler. The battery door, self timer and wind lever are missing. The shutter speed dial is larger, and there is a three position lever around the shutter release collar, with settings for OFF, Single Frame, Continuous, and Self Timer release.
Operationally, the big difference is a built in shutter cocking motor instead of thumb power. This noticeably changes the sound and feel of the shutter release. The shutter mechanism on the Leica M8 is electronic and metal, rather than mechanical and cloth. This together with the cocking motor gives the shutter a completely different sound; about the same loudness but a bit harsher pitched.
On the left top panel is a small LCD window which shows the number of shots remaining, given the current settings. A three level battery warning bar is also displayed. This display is not live unless the camera is turned on, and is not backlit. There is a USB 2 plug on the left side of the body, and it is very securely covered.
The bottom plate of the camera removes in the classic manner (more on this below) and inside there is a slot for an SD card (new high capacity SDHC cards over 2GB are supported), and a Lithium Ion battery. The viewfinder is classic M Leica, big, bright and to my mind at least, a joy to use.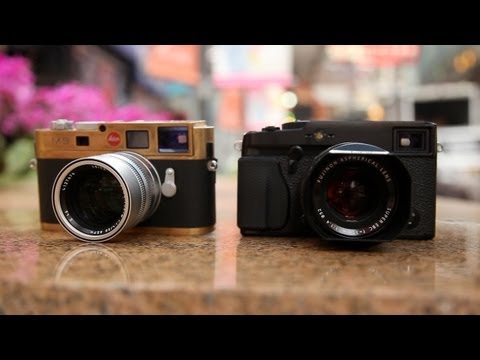 As far as shooting speed goes, the Leica M8 isn't going to win any contests against most current DSLRs in terms of frame rate, but it's no slouch. In continuous mode it can shoot raw plus JPG at 2 FPS for up to 10 frames. Using a 2GB Lexar 133X SD card it took about 23 seconds to shoot 10 frames and have them completely saved to the card. A Canon 1Ds MKII took 22 seconds to similarly take 10 shots and save them. Naturally, the Canon shots at a higher frame rate, but overall wasn't any faster in executing the entire shoot – save to card routine.
The Leica M8 is, of course, a digital camera. This naturally means a rear panel LCD screen, menus, and setting buttons. But to Leica's credit all of this has been reduced to the minimum necessary so that the photographer can control what needs to be adjusted and is not overwhelmed with choices, nested menus, and modalities.
Indeed, after personalization, the only reason to turn on the LCD for many shooters will be to set the ISO or format a new card. (And of course for image review). I do wish that Leica had somehow made setting ISO separate from the rear LCD, and therefore more directly accessible. Sensitivity is the third exposure variable in digital. and relegating it to a rear LCD will really slow a lot of photographers down. Quite annoying. Exposure compensation is also accessed via the LCD, another annoying limitation.
For the purist (if there is such a thing as a digital purist), other than setting ISO more frequently than one would with an M6 or M7, the Leica M8 works just like a film-based Leica. Leave the instant review function turned off to minimize chimping, and just shoot. In a quiet moment, sit down and review images on screen, by all means. But otherwise forget that you're shooting digital and leave the screen turned off. It's liberating, and the Leica M8 makes it easy to adopt this style of working.
Since this isn't a sports camera it will likely be fast enough for most situations. Certainly compared with a manually cocked Leica it's faster, and faster as well than an M7 with M Winder. The buffering in the cameras is intelligent, which means that as soon as shots start to clear a full buffer you can keep shooting, and also access control and review functions. Nicely done, though one can always wish for more speed. Those interested in maximum performance should consider getting the fastest cards. They do make a difference.
The LCD screen is as good if not better than most on current cameras. Large, bright, and with well designed fonts. Hard to fault in any way. Also hard to fault is the provided neck strap, a step above that provided with most other cameras. It has a non-slip shoulder pad that really does its job. Only the Upstrap is better.
The Leica M8 does not have any sound effects. No beeps or clicks or digital music nonsense that so many camera makers love to include. Except for one. If you take a shot without a card installed, which the camera will do, it makes a subtle beep, and flashes a warning on the rear LCD. Elegant.
Leica M series History (brief)
M3 (1954 – 1966)
MP (1956 – 1957)
M2 (1958 – 1967)
M1 (1959 – 1964)
M4 (1967 – 1975)
M5 (1971 – 1975)
CL (1973 – 1976)
M4-2 (1977 – 1980)
M4-P (1980 – 1986)
M6 (1984 – 1998)
M6J (1994)
M6 TTL (1998 – 2002)
M7 (2002 – )
M8 (2006 – )
Now for the Nikon D800
The Nikon D700 was the last great pre-video DSLR. It was an excellent and very boring camera. Nikon's newest, a $3,000 body called the D800, introduces two major features: HD video and a 36-megapixel sensor.
Thirty-six-point-three-million pixels. Compared to the Leica M8, that number should smack you in the face. Megapixel counts can be misleading, but in this case, pay close attention. The camera's success hinges on that sensor. See, a sensor like the Nikon D800′s shoots extremely high-resolution photos, which means a ton of detail in the images. When the conditions are right, it can get better results. But cramming more pixels onto an image sensor can hurt its ability to shoot in dark conditions. If this super sensor falls short, the camera will only be interesting to pros working in controlled environments.
The other big change is Nikon's introduction of video. Until now, if you wanted a DSLR to shoot professional video, you bought a Canon like the Mark II—an upstart embraced by the filmmaking community, because at $2500, you couldn't beat the quality. That evolved into the $3500 Mark III, a refined movie-making machine. The HD-shooting Nikon D800 enters the field with specs that, on paper, could challenge the Canon at a cheaper price.
The ergonomics and build of the D800 are excellent. For a professional camera, it's lightweight and compactjust like the Leica M8. The textured grip is perfectly shaped to be carried one-handed. And its sealed magnesium alloy body can survive some abuse. The camera's LCD went from 3 to 3.2 inches, and it gained a new plastic "anti-fog" protector, but the resolution, like the D700, remains at 921,000 pixels.
Like the D700, the D800 uses two-handed adjustments for many camera settings. That's ideal for photographers who want to quickly tweak shots. Hold down a button for white balance, ISO, or auto-focus on the left side of the camera, and adjust each with a click of the wheels on the right side. The notable additions include a programmable manual function on the front of the camera, and controls for video on the camera body.
Can you live with a manual focus Leica M8, could you live with a rangefinder focusing split image…no matter how accurate and …could you live WITHOUT auto-focus.
The D800 is all about resolution. The 36.3-megapixel, full-frame sensor produces huge, 7,360 x 4,912 images. Studio photographers love these big images because they capture a ton of detail. For photographers who aren't shooting under bright lights, though, these images are still really useful because they offer a lot of leeway to crop usable sections from the larger image.
There are drawbacks to the D800′s high-resolution sensor. Recording huge images to memory cards slows down the camera's performance. While the 12-megapixel D700 could shoot 5 fps, the D800 lost a little speed, as it only takes four. When dealing with the images on a computer, the D800′s RAW files are a whopping 33 MB, which makes processing files very cumbersome. Working with the images in Photoshop or Aperture can be maddeningly slow. Trying to convert hundreds of RAW files to JPEGs? You better have a couple of hours to spare. That said, the camera's JPEG quality is very good, so you don't always have to shoot RAW.
On specs alone, those megapixels on the D800 clearly affect light sensitivity. Its weak sensitivity constraints are a generation old—the D800 shoots at up to a standard ISO setting of 6400 and at up to an expanded range of ISO 25,600. Still, it's impressive that Nikon has tripled the resolution of the camera without hurting ISO ratings. But how do images at that sensitivity look?
Turns out, the Nikon D800 is a monster when it's pushed to its limits. Under decent light with all noise-reduction turned off in our still-life ISO test, the camera held up very well within the standard range. If you zoom in very closely one thing you don't get with the Leica M8, the noise becomes obvious to the untrained eye above ISO 1600. But at a reasonably scaled resolution, those images are very usable. The noise patterns are uniform, a problem that can be dealt with in post processing. As for actually shooting with the D800 at night, the camera is capable of some great things, assuming you can get them in focus. More on that below.
The Nikon D800 takes beautiful photos in nearly any situation. In daylight, the camera is completely satisfying. It shoots minuscule details and vivid color like no other camera out there. In the dark, the high-resolution sensor holds up impressively in its standard ISO range, and photos taken at up to ISO 1600 and often ISO 3200 have so little noise that they're usable without editing. The camera is built to survive, and manipulating your shot with the buttons on the camera without ever going into a menu is smart, streamlined and intuitive. As for video, the D800 delivers what the D700 lacked: versatile filmmaker-quality footage in a DSLR package. The clean HDMI output opens the door to a new world of post-production.
Nikon D800
Price: $3000 (body)
Sensor: 36.3-megapixel, full-frame (35.9mm x 24.0mm) CMOS
Processor: Expeed 3
Max ISO: 6400 (standard), 25,600 (expanded)
Max Image Size: 7,360 x 4,912
Video: 1080p (24/30 fps), 720p (24//60 fps)
Display: 921,000-dot, 3.2-inch LCD
To justify my choice of BOTH cameras….if i was out ALL DAY with the camera and weight is an issue when you are trecking up some mountain, i would have the Leica M8
For studio work or outside where their is a car handy…then the D800 would be more versatile.
Join a community of like minded people with pixsellpix.com Members Board and display or sell your pix. To become a member, just use the comment box for a link to your email….when you receive our response…link some of your BEST photos, a brief description/title and most important…the URL that will directly link your work to where people can BUY IT and we will pin it to the Members Board and drive traffic via Twitter, actually, you could do the same via your social media and double the exposure……and yes it's free.
Pixsellpix.com always encourage feedback from our followers so we can improve on our popular blog. Please take some time to leave your comments, suggestions and ideas you would like to see in future photography blogs and hope you enjoy our new Cameras for sale page.
You can find us here: https://twitter.com/pixsellpix
There: http://www.redbubble.com/people/pixsellpix
Everywhere: https://www.facebook.com/Pixsellpix?ref=hl
Ohhh and this: http://pinterest.com/pixsellpix/
From now at Fine Art America: http://fineartamerica.com/profiles/graham-hawcroft.html?tab=artworkgalleries&artworkgalleryid=218673
Last but not least…click on the ADD tab at the top of your page and add cameras for sale to your firefox browser.
Respect to:Photo i,matt granger, Digital Rev and Kai w.