HDR means High Dynamic Range imaging is used to create images that cover all the tonal ranges to give greater impact to your photos.
In simpler terms, HDR is a range of methods to provide higher dynamic range from the imaging process. Non-HDR cameras take pictures at one exposure level with a limited contrast range. This results in the loss of detail in bright or dark areas of a picture, depending on whether the camera had a low or high exposure setting. HDR compensates for this loss of detail by taking multiple pictures at different exposure levels and intelligently stitching them together to produce a picture that is representative in both dark and bright areas.
HDR is also commonly used to refer to display of images derived from HDR imaging in a way that exaggerates contrast for artistic effect. The two main sources of HDR images are computer renderings and merging of multiple low-dynamic-range (LDR) or standard-dynamic-range (SDR) photographs. Tone mapping methods, which reduce overall contrast to facilitate display of HDR images on devices with lower dynamic range, can be applied to produce images with preserved or exaggerated local contrast for artistic effect.
If you are creating a HDR photograph inside a cathedral for example, make sure you capture ALL the details from light areas to the shadows on your histogram.
The point of bracketing for HDR is to ensure that you capture the entire dynamic range of the scene – as much shadow detail as you can get and all the highlights. To do this, you really have to check your histogram after taking a basic set of bracketed exposures and add to this set if needed.
Once you have composed your shot, start with either 5 or 7 images bracketed by 1 stop. The initial choice will depend upon the scene you are shooting and your assessment of the dynamic range but it doesn't really matter as long as you follow the next step. Once the initial bracket is done, make sure you don't move the camera but review the brackets on your LCD with the histograms visible. The darkest image should have no blown out highlights and you should see no significant bunching of data on the right of the histogram. The lightest image should have no solid shadows (data touching the left edge of the histogram). To be extra safe and to reduce noise in the shadow areas,  always try to ensure that your lightest exposure has no data at all in the bottom quarter of the histogram.
Obvious to some people, but a tripod is a must for HDR photography
This video shows you how to take your exposures through Photomatix photoshop lightroom HDR photography to manipulate your image to suit your personal requirements or "Niche" you want to develop.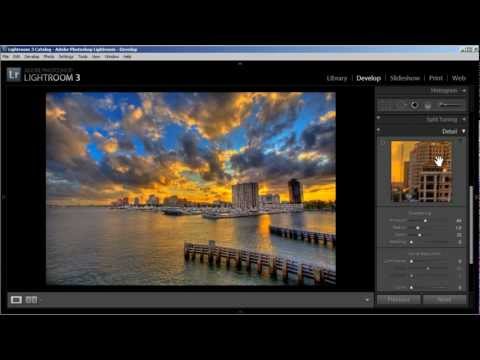 For a highly detailed workout on HDR photography leaving no stone unturned and…if you have a spare hour…will show you virtually EVERYTHING, just get a large cup of tea…a pack of biscuits…and go here
When you have had enough of that…pixsellpix will turn into a Dragan and have some fun with HDR photography.
Sooo, time to put your tripod away and loosen up a bit with this video on the Dragan effect.
If you're a photo buff of any level, you've most likely heard of or seen the amazing work of Andrzej Dragan. His portraits have a very high contrast and color style all their own. The effect is stunning and eye catching. It reveals a lot about the subject that the naked eye doesn't get to see. A similar effect can be created in Photoshop with just a few simple steps.
First we want to make the bright parts on the face (the highlights) little more white.
 Use the Dodge/Burn tool. Set the option to "Dodge", "Highlights" and a Lighting of 40. Don't forget to lower the opacity in the preferences of this tool. By doing that you'll have much more control over what you make brighter.
paint with a soft brush (size of 30 – can vary if you have other picture) a few times on the cheeks of the man. Do this again for the eyes, eye wrinkles, and nose. Everything that is in the same size of the brush.
Lower the size of the brush, and paint over the bright parts of the forehead. After that make the brush again smaller and paint over the eyebrows unti they're better visible (in the meaning of "brighter").
Next, switch from "dodge" to "burn" in the preferences. Set the options to "shadows" instead of "highlights". Lower the opacity even more and paint (with a larger brush again) some times over the dark shadowy parts of the portrait. This will darken the areas.
- Set the size of the brush to about 10px. Lower the opacity again and paint over the darker parts of the eye wrinkles and forehead.
Looks good so far! But to get a better overall feeling we want to sharpen the image by enhancing the contrasts.
- Duplicate the layer
- Filter / Enhance / Unsharp Mask: 60 / 0.25 / 0
Now we need to sharpen again in different way. We cannot use the standard sharpen filter nor the unsharp mask filter for this since we need to only get better visible edges in the picture. This only works on pictures that are already pretty sharp.
You'll find the edge sharpening filter under  NL-filter in the menu Filter / Enhance. Use the values from the image. The more "alpha" you use the more edges will be detected and sharpened.
This filter will get you good details on the beard.
The last step is to desaturate the image a bit by using>
Colors > Hue> Saturtion. Set the saturation ruler to about -35.
We hope OUR photography blog will give YOUR creative muscle some inspiration next time you are out and about.
To show your appreciation of our time and effort maintaining this popular, viral  photography blog, "push the button" below to maintain the future of pixsellpix.com  Any donation, however small, is better than nothing, thanks for stopping by and have a positive day.
Pixsellpix.com always encourage feedback from our followers so we can improve on our popular blog. Please take some time to leave your comments, suggestions and ideas you would like to see in future photography blogs.
You can find us here: https://twitter.com/pixsellpix
There: http://www.redbubble.com/people/pixsellpix
Everywhere: https://www.facebook.com/Pixsellpix?ref=hl
Ohhh and this: http://pinterest.com/pixsellpix/
From now at Fine Art America: http://fineartamerica.com/profiles/graham-hawcroft.html?tab=artworkgalleries&artworkgalleryid=218673
Last but not least…click on the ADD tab at the top of your page and add us to your firefox browser.