Flower photography to inspire – series 3
Indoor flower photography, enjoy some quality "ME Time".
Sometimes, it's not ALL about cameras, lenses and what "F" stop to use…it's good occasionally to "switch off" with some "ME" time.
Plan ahead for some "ME" time to do your shots. Indoor, or studio photography is great for this, as your subject is going nowhere and you have complete control to experiment with lighting, focus and…most importantly…time to enjoy your favourite camera with no distractions…marvellous.
Flower photography…isolate your subject.
Isolating your subject helps you to focus on what you are about to create, clear away any negative distracting clutter from your workspace…just the flowers. Start by allowing yourself a set time, say 3 hours, to achieve some creative flower photography with NO distracting people or annoying phone calls.
Simple, understated backgound.
Nothing is more distracting to the eye than a really busy, confusing background. Choosing the colours for your flower photography is really important in making an impact. Personally, i always go for opposite colours to pack a punch…"red and green should never be seen" sort of logic. Warm colours against cold also works very well.
Single colours pack a punch.
Just one colour can be all you need…so experiment to your hearts content and create your best  flower photography
Lighting your flowers.
Lighting is crucial for expressing the mood you are trying to create with your flower photography. For most uses, natural daylight is the answer…diffused daylight is even better when it is directional (from the left, right, above or backlit). Once you are happy with the light source, take some shots, then use a reflector to bounce the light source back onto the flowers, take some more shots and compare. Bouncing a light source back onto the flowers will soften any unwanted shadows…i use a silver lid off a takeaway box…costs nothing and is very effective.
Black and white abstracts.
Forget the colour for a while and go for shapes…use a bit of diffused flash to exaggerate the shapes. Set your flash to the lowest settings and start with using the flash pointing upwards to bounce off the ceiling, then left and right of the subject.
Black and white OR colour, use the lowest settings on your ISO, to keep the noise levels down and under expose by 1 or 2 stops.
Set your camera to Manual > RAW > switch off auto focus.
By using manual mode on your camera, it will be easier to control your exposures. Shooting in RAW will make it easy to retrieve any information in your photos. Check your histogram and adjust your exposures for an even histogram. Using manual focus is a lot better for composition. You decide what is in focus. Focusing the lens yourself, is by far, MORE satisfying than having the camera doing it for you.
Experiment with your apertures.
Start with a tripod, and shoot six photos of exactly the same scene, decreasing the aperture with every shot, starting from wide open. Try and view the results on a laptop/computer as opposed to your screen, as you will see more details of what is in focus and what is out of focus in your D.O.F. Using an "F" stop that is 2 stops off wide open will get some very nice bokeh effects as in this beautiful vid made by Juergen Roth. Note that most of the photos in this flower photography video are really up close.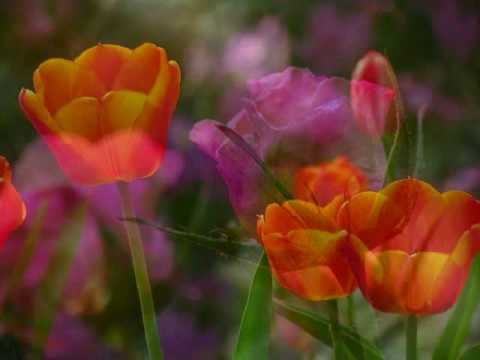 When you are satisfied with the results…switch off the lights and do some more shots.
In complete darkness, start to add light from one direction and get in close. It's an advantage to have the subject located central to a room, so you can walk around and shoot from different angles. Take some shots, then start to introduce some more lighting, say from above or bounced-back light. Experiment with your white balance setting in-camera or afterwards in photoshop for some really creative results.
Conclusion…that's about 3 hours of concentrated flower photography with a result.
Time flies when you are having fun with your camera and you should do it more often. Just one more thing…look back at your photos over the last 6 months…have they changed?
From here on, your flower photography can become very bespoke. Using filters in photoshop, adjusting curves slightly can exaggerate your efforts. With a clear vision, you could create your own "niche" in creative photography with fractals, abstracts, double exposures and even split images.
On the subject of splitting images…have a look at some British humour over a beer, Burger and some fries…enjoy, ohhh and a Happy New Year for 2013.
We hope OUR photography blog will give YOUR creativity some inspiration next time you are out and about.
If you like our humour and blog of course, buy your Mrs a bunch of flowers…or give us a like…make a donation to help maintain our popular viral blog.
Please Donate €10… $10… or 10 cents… a Pavarotti (Tenner) WILL make a difference.
Pixsellpix.com always encourage feedback from our followers so we can improve on our popular blog. Please take some time to leave your comments, suggestions and ideas you would like to see in future photography blogs.
You can find us here: https://twitter.com/pixsellpix
There: http://www.redbubble.com/people/pixsellpix
Everywhere: https://www.facebook.com/Pixsellpix?ref=hl
Ohhh and this: http://pinterest.com/pixsellpix/
From now at Fine Art America: http://fineartamerica.com/profiles/graham-hawcroft.html?tab=artworkgalleries&artworkgalleryid=218673
Last but not least…click on the ADD tab at the top of your page and add us to your firefox browser.