Capture some great cat photos by being cheeky and creative…knowing the basics.
Great cat photos are more chance than planned as some cats spend most their time asleep and while they are awake, you are asleep…however…although all pussies like a play, the most important tool you have is FOOD!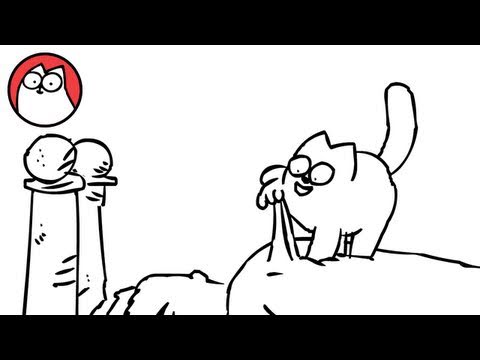 I have a favourite's "list" of things i love talking about…favourite things relevant to photography i mean, techniques and cameras (especially the ones i can't afford…hint, hint), but doing todays blog on pussies will have to be at the top.
When cats are awake, they have one thing on their mind (like us fellas) and thats food and generally, an uncooperate cat will do ANYTHING for it's favourite tit-bit.
This is the time to start taking your cat photos with some small treats and not too much at once…remember…a full pussy will just go back to sleep.
For great cat photos, get to their level.
Not just on your knees either…get on the floor, even on your back if you have to and use the tit-bits to draw your cat closer to your chest, or on your chest and use a wide angle lens…from kittens to cats, most pussies enjoy a bit of adventure.
Hide yourself somewhere.
Hide under a table and start making a noise with a toy, or a matchbox, so the cat has to come and find you..leave a trail of small treats leading to your hideaway, then shoot, shoot, shoot…keep shooting to get your best cat photos…dump the one's you don't need later…AND…don't keep chimping, you are wasing time. Get your camera setting right before you start.
Low light.
If your old Tom is an indoor puss, then the likelyhood is you will have low light to counter act or your shutter speed will be sluggish and your cat photos will be blurred. So…two choices here, crank up the ISO on your camera till you get a shutter speed of at least 250sec, or use some flash. Be subtle with your flash though.
Turn your flash to it's lowest setting. Ohhh, for more tips like this just go here.
If you have a POP-UP flash…tape some paper over it, or a piece of cloth to diffuse the flash and avoid using flash direct at the cats face, or your cat photos will have the "red-eye".
If you able to swivel the flash head, turn it up to the ceiling or side-wall, to bounce the light…this will also diffuse the harsh flash.
Outdoor cat photos.
Most pussies of all ages like to play outside and feel the breeze through their whiskers, so choose a shaded area and recheck your settings BEFORE you start shooting and not during your cat photos. Just keep your shutter speed up and your lens at about 2/3 stops from widest setting and keep shooting.
Cats love to play.
Try and think of creative things to entertain your pussy…like…has your wife been shopping recently and bought a big hat for a future wedding??? Yeah…thats the one…the one with a big feather in it…cats love to shred feathers and it will make some great cat photos.
Cats and water don't mix?
Actually some pussies love a shampoo and the props you can use to get great cat photos is just endless..try black and white instead of colour.
More great cat photos.
Imagine the great cat photos you can get by taking your old Tom to the shops…FISH SHOPS and Aquariums…choosing their own treats.
Borrowed interest for your cat photos.
If you have a white cat, "borrow" a black cat and vice versa to capture some great cat photos this way, using opposites.
Likewise, another "opposite" is a dog… be a bit careful with this one, or may need a referee. What about someone the cat knows…say an old lady next door with your 2month old kitten…face to face…you have an opposite attraction straight away "old and young".
Have fun and don't get too serious.
We hope OUR photography blog will give YOUR creativity some inspiration next time you are out and about.
If you like this, give us a like or make a donation to help maintain our popular viral blog.
Please Donate €10… $10… or 10 cents… a Pavarotti (Tenner) WILL make a difference.
Pixsellpix.com always encourage feedback from our followers so we can improve on our popular blog. Please take some time to leave your comments, suggestions and ideas you would like to see in future photography blogs.
You can find us here: https://twitter.com/pixsellpix
There: http://www.redbubble.com/people/pixsellpix
Everywhere: https://www.facebook.com/Pixsellpix?ref=hl
Ohhh and this: http://pinterest.com/pixsellpix/
From now at Fine Art America: http://fineartamerica.com/profiles/graham-hawcroft.html?tab=artworkgalleries&artworkgalleryid=218673
Last but not least…click on the ADD tab at the top of your page and add us to your firefox browser.